About Heidi Miller
Heidi Miller M.S. CCC-SLP


Speech Language Pathologist & Feeding Specialist

Advanced Childhood Apraxia (CAS)
Heidi Miller has been practicing Pediatric Speech therapy with a passion for almost 20 years. She has worked in a variety of settings including Private Clinics, Hospitals (Hackensack), Elementary Schools and Rehabilitation Facilities.
She was voted NJ Favorite Docs since she opened her doors.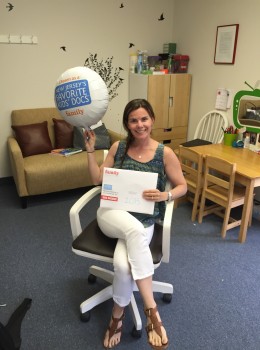 Heidi loves the interactions with both her clients and their parents. Being the mother of three children helps her to understand a parents perspective.
She feels very fortunate to be in a profession, which truly gives back.
Heidi meticulously hires exclusively pediatric based therapists. Heidi does ALL of the initial evaluations to ensure she knows and has a connection to each child being treated in the clinic.
Heidi Miller received her Bachelor of Science degree in Speech Pathology and Audiology from University of Wisconsin, with a minor in education; and her Master of Science degree in Speech Pathology from Nova Southeastern University.
Following graduation, Heidi worked under the tutelage of feed expert, Monica Wojick at Pediatric Therapy Associates. Heidi provided neonatal feeding, oral motor therapy and g-tube weaning in a NICU and post NICU environment. Heidi treated medically fragile, tracheostomized, and neurologically impaired children ages birth to 21 years in a rehabilitation center. Heidi also participated in video fluroscopic swallow studies at Plantation General Hospital.
More recently, Heidi has extensive experience working with multi-disciplinary teams and providing education to families.
Heidi has a particular interest in working with feeding disorders. She has been trained in the SOS Approach to Feeding (Kay Toomey) and has taken extensive continuing education Feeding related courses.
Heidi created her own course of feeding treatment utilizing the knowledge accumulated over many years. Children have proven to make tremendous gains using this specialized treatment protocol.
Heidi believes in a multi-modality approach to treat speech disorders. This helps ensure the child is being taught to their best learning style. While teaching speech and language it is also critical to make goals FUNCTIONAL to the daily life of the family. Teaching families to better understand and communicate with their kids is a joy.
She has also taken an extensive amount of continuing education courses that address topics such as Oral Motor, Apraxia, Autism, Down Syndrome, Infant Development, Auditory Processing, Language, Sensory Integration and Nutrition.